If you are having difficulty accessing our website or require additional assistance with learning about our credit union and our services; please call us directly at (419) 385-0101 and we will be happy to assist you.
Dear Toledo Police Federal Credit Union Member:
Recently you received a copy of your October Credit Union Account Statement in the mail.
Unfortunately, many of you may have received inaccurate information listed under the Share Account 001 Regular Shares section where it displays your "New Balance". To our disappointment, there was an error in the printing production process by our third party printing company which caused an inaccurate amount to display by this item.
Our printing company has worked tirelessly to determine how this error occurred and to our satisfaction they are taking steps to ensure that it never happens again. To their credit, they have graciously reprinted the correct version of your statement for us and it will be in the mail 11/13/2018. We ask that you discard the previous account statement you would have received sometime last week and replace it with the information you will be receiving in the next few days in the mail.
We apologize for any confusion and welcome you to contact either of our offices if you need further assistance or the correct New Balance before that statement arrives.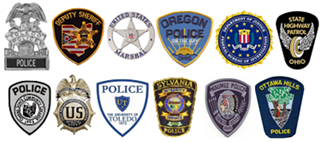 Our Membership currently includes Officers with the above Law Enforcement Organizations.

TPFCU employees are registered with the National Mortgage Licensing System


CURRENT NMLS IDS
By clicking some web links, you will be leaving Toledo Police Federal Credit Union's web site and directed to an external web site located on another server. TPFCU has no responsibility for any external website and neither endorses the information, content, presentation or accuracy nor makes any warranty expressed or implied regarding any external site. Federal regulation requires this notice. Unauthorized use or acces of this website is not permitted and may consitute a crime that may be punishable by law.
Go to main navigation