If you are having difficulty accessing our website or require additional assistance with learning about our credit union and our services; please call us directly at (419) 385-0101 and we will be happy to assist you.




UPCOMING FINANCIAL WELLNESS SEMINAR- HEALTHCARE IN RETIREMENT
PRESENTED BY SAVAGE AND ASSOCIATES
We will be hosting the 2nd Financial Wellness Seminar for our members focusing on Healthcare in Retirement.
CLICK HERE FOR FULL DETAILS AND LINK TO A MESSAGE FROM SEAN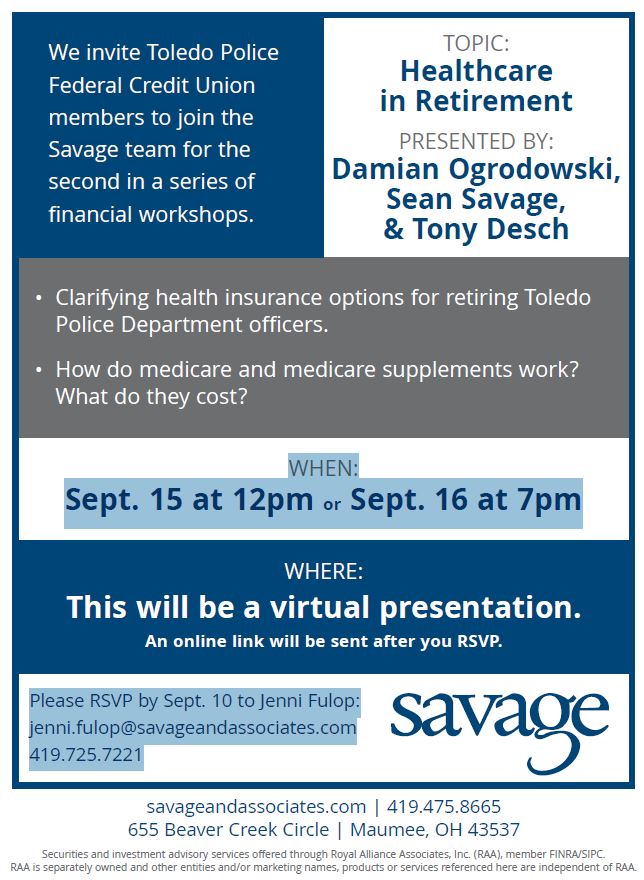 In Memory of Anthony Dia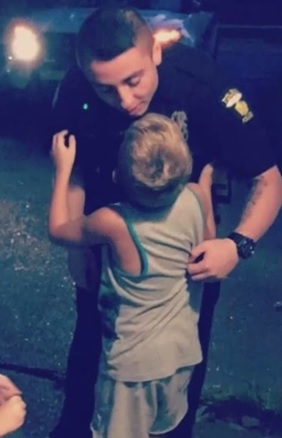 We are still accepting donations for the family of Officer Anthony Dia in person at both of our locations.

If you wish to mail a check, please make that check payable to: Toledo Police Federal Credit Union
PLEASE NOTE THAT THIS SHOULD BE DIRECTED TO THE ANTHONY DIA MEMORIAL ACCOUNT.

The address to mail your donation is:

4280 Heatherdowns Blvd.,
Toledo, Ohio 43614

100% of your donation will go to his wife and children.
Attention Toledo Police Credit Card Account Holders:

In the next few days, you will be receiving your brand-new Toledo Police Federal Credit Union Credit Card. You will know this card is new because this card will be a black card with silver highlights as seen below. This will be your new card moving forward and we are happy to share with you the differences and we are excited about a few upcoming changes.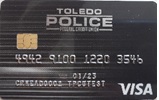 We have made the decision to change our credit card processor to one that will integrate with our current operating system. What this means for you is faster posting of debits and payments to your card (less waiting on overnight processing). Additionally, other benefits include: real-time balance information, enhanced security and fraud monitoring, as well as an enhanced rewards system that will finally allow you to redeem your points for cash back.
As early as June 8th you may begin to receive your new Toledo Police Federal Credit Union Credit Card. You probably already received some correspondence in the mail. We haven elected to send these out early because of some postal service disruptions that have been occurring lately. We want to ensure that you have your card in hand when we go live on 6/22/2020.
Please continue to use your old card until that JUNE 22, 2020 date. This card will remain active and in place. On Monday, 6/22 you will be able to activate and begin to use your NEW card. Simply cut up the old and continue forward with the new. All your balance information, your credit line, as well as your purchase and payment histories will transfer and continue on without interruption.
What about my existing Scorecard points? We are glad you asked. We are currently in the process of transferring those point totals over to our new card provider and we will be continuing our points-based rewards program under our new provider's program with just a few improvements. We are happy to announce that now, for the first time ever, we will be offering you the ability to redeem those points for cash back. No more settling on merchandise you really have no want or need for in the first place.
Please, do not worry we have elected to carry these points over to our new program. I assure you; your points will appear in their entirety on our new processor's statements that you will receive in July.
As mentioned in our previous correspondence, it's as easy as receiving your new card, activating it on 6/22, and using that new card going forward! Additionally, we do recommend that you make a note of any automatic debits that are currently being charged every month to your TPFCU Credit Card. These venders will need to be updated with your new card number.
It is our hope that in the upcoming months we can further enhance this program with additional awards, programs, and possibly some giveaways for our members. Unfortunately, our old processor just wasn't going to get us to where we wanted to go. We are confident our new processor will be better suited to help us accomplish these tasks and deliver not just an adequate credit card for our members, but one that has rewards and benefits that our members will want to have.
CREDIT UNION INFORMATION ABOUT THE COVID-19 CORONA VIRUS <<CLICK HERE>>
(THIS WILL BE UPDATED WITH THE MOST CURRENT INFORMATION AS IT BECOMES AVAILABLE- Last Update 6/1/2020)
TO REPORT A LOST/STOLEN DEBIT OR CREDIT CARD PLEASE CALL US IMMEDIATELY
AT 419-385-0101

IF THIS HAPPENS OUTSIDE OF BUSINESS HOURS PLEASE CALL:
DEBIT CARDS: 1-800-992-3808
CREDIT CARDS: 1-800-991-4964
To manage your own debit card, consider downloading Card Valet. This app is available in your app store and
it replaces Mobi Money. It will help you protect your debit card through your mobile device by sending alerts
telling you when, where and how your cards are used. This app will also turn your card on and off
should it ever be lost or stolen.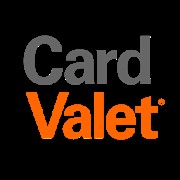 TPFCU employees are registered with the National Mortgage Licensing System


CURRENT NMLS IDS
By clicking some web links, you will be leaving Toledo Police Federal Credit Union's web site and directed to an external web site located on another server. TPFCU has no responsibility for any external website and neither endorses the information, content, presentation or accuracy nor makes any warranty expressed or implied regarding any external site. Federal regulation requires this notice. Unauthorized use or acces of this website is not permitted and may consitute a crime that may be punishable by law.
Go to main navigation